LAST WILL & TESTAMENT SOFTWARE :: WILL LEGAL FORMS
A Last Will & Testament is one of the most important legal documents a person can create during his or her lifetime: it determines who receives the assets of that person upon death.
While the common laws of most states are set up to provide the assets of an estate first to the surviving spouse and then to any children of that person if the spouse is no longer living, this hierarchy of distribution is not always guaranteed.
Spending just a few minutes today to create a legal Will form is simply smart estate planning: a Last Will and Testament will guarantee that your family receives the assets of your estate when the time comes. Why let the vagaries of state laws and the decisions of a Probate Court Judge affect the finances or your spouse or children after you die?
Creating a legal Last Will and Testament document allows you, the Maker of the Will, to specify exactly who is to receive the assets of your estate. More importantly, creating a Will shortens the Probate process exponentially, proving the authenticity of the Will by the signature of the Witnesses and Notary and clearly stating the distribution of assets to speed the transfer of the estate to the designated survivors.
Standard Legal Software's Last Will & Testament legal forms software allows you to easily, quickly and affordably create a legal Will document that is valid in all 50 states.
Standard Legal provides a number of Last Will and Testament document types to address the specific needs of your personal situation:
- WILL FOR MARRIED FEMALE WITH CHILDREN, PROPERTY TO HUSBAND THEN CHILDREN
- WILL FOR MARRIED FEMALE WITH NO CHILDREN, PROPERTY TO HUSBAND
- WILL FOR MARRIED MALE WITH CHILDREN, PROPERTY TO WIFE THEN CHILDREN
- WILL FOR MARRIED MALE WITH NO CHILDREN, PROPERTY TO WIFE
- WILL FOR SINGLE PERSON WITH CHILDREN, PROPERTY TO CHILDREN
-WILL FOR DIVORCED PERSON WITH CHILDREN, PROPERTY TO CHILDREN
-WILL FOR SINGLE PERSON WITH NO CHILDREN, PROPERTY TO PERSONS NAMED
In addition to these family-structure options, Standard Legal also incudes Wills that manage specific processes:
DESIGNATION OF GUARDIAN: Persons with young children often wish to designate a guardian for those children. Standard Legal's Last Will and Testament documents for persons 'with children' have language within the documents that allow for the naming of guardians for minor children after death, to directly address this desire.
SPECIFIC GIFTING PROVISIONS: Another of the Will forms provided in the software also allow for specific gifting provisions, allowing the maker of the Will to designate certain assets to certain beneficiaries. While specific gifting is certainly not required (and the most common of the Will forms provided only allow for general distributions of assets instead of specific gifting), the option exists within Standard Legal's Will software to create specific gifting clauses.
ASSET SALE FOR CASH DISTRIBUTION: A Will Directing Sale of Assets and Payment of Proceeds to Beneficiaries is also included. This Will provides that the real and personal property of the decedant be sold after his or her death and the money generated by the sale of such property (i.e. the proceeds) be distributed to the persons named by the maker as his or her beneficiaries. This Will allows specific dollar amounts to be passed to the beneficiaries or a percentage of the total proceeds after the sale of the property.
FINAL DISPOSITION: Standard Legal also includes a Notice of Final Disposition document. This document allows you to describe your wishes as they pertain to funeral arrangements and the disposition of your bodily remains. Using this document permits you to declare your desires while you are alive for specific funeral arrangements and burial or cremation (or other processes) after death. This document should be provided to your loved ones now, relieving them of having to make these choices during a difficult time. If there is no Final Disposition document prepared in advance, the law in the state where you die generally determines who will decide how the remains are handled. This document allows you to make your wishes known in advance!
ASSETS AND ACCOUNTS: Finally, an Assets and Accounts List form is included, allowing you to list the location of all of your bank accounts, insurance policies, safety deposit boxes, stocks and bonds, and other liquid assets, so your family and/or executor has a complete record of where your assets can be found.
SELF-AUTHENTICATING: Each Standard Legal Last Will is set up to be "self-authenticating" -- which means that finding and using the services of a Notary is not necessary in states that don't specifically require it! Every Will form includes both a detailed witness verification provision (i.e. self-authorizing) and the standard Notary's Acknowledgement form. Thus, the validity of your Will is doubly covered!

A Will document protects the structure and relationships within your family by making your wishes clearly known to all. Why not spend a few minutes and a very small amount of money to create the Will papers that are so important to your family's future?
Take advantage of the ease of use and completeness of product that Standard Legal can provide. Get the peace of mind that solidifying your Will can bring. Create a comprehensive Last Will and Testament for your family today!

The forms provide by The Standard Legal Network are the most up-to-date, legally accurate and easiest-to-use in the industry. Many of our competitors provide forms that are poorly formatted, out of date or simply filled with inaccurate instructions. Please take a minute to review the bullet points at the right detailing the 13 REASONS why our Standard Legal Software packages are the clear choice for do-it-yourself legal products! Also, check out the software format features listed below and you'll get a look inside the software to see how it works!

---
ATTENTION ATTORNEYS AND PARALEGALS:


IMPORTANT LICENSING INFORMATION FOR DOCUMENT PREPARATION PROFESSIONALS
The legal forms software described above is licensed exclusively for use by do-it-yourself "pro se" individuals who are creating legal forms for themselves or their immediate family members. If you are a legal professional looking for software forms that are licensed for use on behalf of clients in a commercial situation, please review our Professional Version option.
---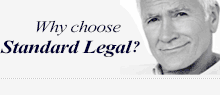 QUALIFIED ATTORNEY AUTHORS:


All of the legal forms within each Standard Legal Software product are carefully researched and written by a highly-qualified, experienced, licensed attorney.


UP-TO-DATE LEGAL CONTENT:


All of the content and instructions are updated any time a state or federal law, statute or administrative requirement changes. Our legal forms content is in constant review.


STEP-BY-STEP INSTRUCTIONS:


The comprehensive instructions are written for use by ordinary, everyday people! If you can answer clear, specific questions and follow written instructions, you can complete these forms. The format of this software truly is "fill-in-the-blank".


USE THE SOFTWARE AT-ONCE:


Use the software immediately after purchase! Get encrypted links to the software download server and password-protected online access within seconds after the transaction. Links are provided both on-screen and in an email confirmation.


EASILY DOWNLOADABLE FORMS:


Standard Legal's forms can be downloaded in total within one .zip file, or individually from the online forms server! No .exe file installation required. Both versions are identical in content and functionality, and both are included as part of the purchase price.


USE WITH ANY COMPUTER:


Mac or PC, Microsoft Word or a simple text editor, dial-up connection or a T-1 line -- no matter what type of system you have, you can use Standard Legal Software. True cross-platform, multi-program legal forms options.


FREE TECHNICAL SUPPORT:


The support staff at the Standard Legal Network is trained to help its clients download and access the software effectively. While we cannot provide legal advice to you, our staff will gladly assist you by email in obtaining and using the forms.


SECURE PAYMENT PROCESSING:


Feel confident in making an online purchase, as we provide 128-bit encryption of your transaction data and personal information using the latest payment technologies from Authorize.net!


NO SHIPPING FEES NECESSARY:


Because the products sold by Standard Legal are provided in downloadable software format, there are no additional fees for handling and shipping a printed package of paper. Print out only the forms that you need!


FREE ATTORNEY REFERRAL:


All customers gain free access to our attorney referral site. If you decide that handling a situation yourself might not be the way to go, you can log on to our attorney referral site and find a qualified attorney to help you with your case. No charge to post your case!


LEGAL & VALID IN ALL STATES:


The forms provided by Standard Legal are valid throughout the USA. Whenever necessary, state-specific language or forms are provided to cover all districts and territories:
Alabama
Alaska
Arizona
Arkansas
California
Colorado
Connecticut
Delaware
Florida
Georgia
Hawaii
Idaho
Illinois
Indiana
Iowa
Kansas
Kentucky
Louisiana
Maine
Maryland
Massachusetts
Michigan
Minnesota
Mississippi
Missouri
Montana

Nebraska
Nevada
New Hampshire
New Jersey
New Mexico
New York
North Carolina
North Dakota
Ohio
Oklahoma
Oregon
Pennsylvania
Rhode Island
South Carolina
South Dakota
Tennessee
Texas
Utah
Vermont
Virginia
Washington
Washington D.C.
West Virginia
Wisconsin
Wyoming
U.S. Territories
SAVE MONEY ON LEGAL FEES:


Bottom line, when you use forms from Standard Legal, you can quickly and easily create the same legal documents for which a local attorney would charge hundreds -- or even thousands -- of dollars. The net result can be a very substantial savings!


100% MONEY BACK GUARANTEE:


Standard Legal guarantees that all of the documents provided within our software will be acceptable to the appropriate court or government agency, and will refund 100% of the purchase price should a document not be accepted due to our error.

I would like to express my most sincere gratitude for this wonderful software. I was able to prepare my Last Will and Testament as well as my Living Will in a matter of minutes. Thanks for helping me save a lot of money. I will definitely recommend you to my family and friends.
-- Mr. Juan Munoz, Orlando FL
---
WOW!! Thanks for the prompt reply to my email. I'm impressed. I did software development for TRW for 40 years in missiles and weapons systems. I recognize and appreciate the quaility of your Will and Living Will products. And the great customer service, too!!
-- Ray Rosen, Prescott Valley AZ
---
After quite a number of years of procrastination, it was the compact, concise and very affordable Standard Legal documents that got me to complete my Will and Living Will. The price and service can't be better. Thanks for helping me get that important yet 'put-offable' task finished.
-- Eric Ford, Phillipsburg NJ
---
I ordered three Standard Legal forms: Last Will & Testament, Power of Attorney and Living Will. The forms were written in such a way that the 'legaleze' was easy for a layman such as myself to understand; the language and meaning left nothing to question. No law library was necessary. The witnesses and Notary I chose to verify my signature were amazed at the simplicity of it all. I am satisfied that the forms will do the job when the time comes to settle my estate...
-- Charles L. White, Fulton TX
---
I purchased Standard Legal software to prepare a Last Will and Testament for myself and my family. My mother passed away last July and although she had a Will, we couldn't locate the original -- and that caused me hours of paperwork and follow-up in Probate Court. I decided right then that I was not going to experience that again with my family...
-- Ayani Good, Chicago IL
---
I'm a guardian ad litem for the county I live in, and I do legal research for my own company. Over the last few years, I have been asked to help write a Last Will and Testament for several friends and business clients. To handle those requests, I've always just gone to the nearest store and bought pre-printed forms. I finally decided there had to be an easier way. I found your StandardLegal.com web site and purchased the software download. It went so well and was a lot less hassle than pre-printed forms. I would recommend Standard Legal software to anyone -- and I have!
-- Michele Peele, Hickory NC
---
I purchased Standard Legal software in order to prepare a Will, a Healthcare Power of Attorney and a Living Will for my ailing mother-in-law. The forms were easy to use and I prepared the documents in a short period of time. Unfortunately, my mother in law died within 10 days of the forms being prepared and signed. The local hospital honored the Living Will forms, and the attorney who assisted me in probating her estate was impressed with the quality of the Will. The estate was probated without incident. I will be purchasing additional Standard Legal software in order to sell my mother-in-law's real estate. Your software saved me hundreds of dollars, so thank you!
-- Bryan Frank, Anderson IN
---
I bought your Last Will & Testament package last year, right before we left on a cross-country trip of 3 to 4 months. I could not get a lawyer to create a Will for us right before we left, so I used Standard Legal software. The Will gave us peace of mind that if anything happened to us while traveling, our wishes would be taken care of. After we returned home, I had the opportunity to let a lawyer friend of mine look at the document that I had purchased and created. He assured me that the Will was perfectly fine!
-- Donald Lysell, Winston-Salem NC
---
Thank you for all your help! My wife and I had never thought about making out a Last Will and Testament until now. We were given news that we were going to be grandparents in just a few short months, and thought we had better get on the stick! So again, thank you!
-- David L. Smith
---
Thank you very much for your prompt reply. I appreciate your customer service - it speaks highly of the overall product of Standard Legal.
-- Gerald Bogard
---
With a very sick father suffering from cancer, Standard Legal allowed me to get the appropriate legal documents prepared for him without my father ever having to leave the comfort of his home. Thanks, Standard Legal.
-- Howard Jordan II, Pensacola FL
---
SYSTEM REQUIREMENTS & SOFTWARE FILE SPECIFICATIONS:
Standard Legal Software works on virtually all Windows, Apple / Mac, and Linux-based systems. Links to a downloadable file are presented immediately upon the completion of your transaction. The initial download is provided as a compressed .zip file which much be expanded to access a series of folders containing all of the legal forms, overview files and instruction files. To expand the initial download, most computers come with a decompression utility like WinZip pre-installed; if your computer does not have a .zip utility, we recommend StuffIt Expander (it's FREE!).
For most titles, the initial download contains all of the forms and instructions needed. However, an active web connection is highly recommended even after the initial downloaded is completed, as some of the information contained within some of the titles may be accessible only from our online forms server. (Read the START-HERE.txt file included in the initial download for specific instructions.) The online forms server allows for the most up-to-date legal documents to be available at any time, and prevents the user from downloading forms that will never be used from titles that have an exceptionally large number of files. Once the proper forms are downloaded from our servers, they are to be completed offline; you do not need to be online to complete any of the forms.
Generally, the legal forms contained within each Standard Legal title are provided in three formats: as Microsoft Word files, as standard text files, and as Adobe PDF files. TO GET A DETAILED DESCRIPTION OF THE FUNCTIONALITY OF OUR LEGAL FORM FORMATS -- AS WELL AS FULLY-WORKING SAMPLES OF THOSE FORMATS -- CLICK HERE. Note that some forms are provided in only one or two of the available formats.
The fully-featured commercial version of Microsoft Word is required to complete the Word-formatted forms. Other open-source and commercial word processing programs like Microsoft Works, WordPerfect, Word Pad, OpenOffice, Google Docs, Note Pad or Simple Text may also be used, but only with the "straight text" version of the forms. Finally, the provided PDF versions of the forms require the download and installation of either Adobe's Acrobat Reader (it's FREE!), another vendor's PDF program that permits the entering of data into form fields, or the full commercial version of Adobe Acrobat.
Access to the password-protected online legal forms server (sometimes called "the online version") requires a java-enabled web browser like Internet Explorer 3.0 or later, which typically comes already installed on most systems. (If your system does not have a web browser, you can download the most recent version of Internet Explorer or Firefox for FREE.) Once you access the online version of our legal forms server, the user should read the instructions provided on the main menu and download only the specific legal forms, overviews and instructions required for his or her situation. Once all of the necessary files are downloaded, the user may complete those forms "offline" using the programs listed above.