BANKRUPTCY LEGAL FORMS SOFTWARE FOR PERSONAL CHAPTER 7 AND PERSONAL CHAPTER 13 FILINGS
It's easy for financial situations to get out of control. Sometimes it begins with the loss of a job, where income levels change dramatically. Or perhaps it's the death of the primary wage earner in the family, where the rest of the family can no longer meet the obligations that were taken on previously. Or maybe it's a significant change in the economy, or a consistent debt pattern that has finally spiraled out of control.
Whatever the reason for deep, ongoing financial issues, there often comes a time when enough is enough. Creditors call constantly, the debt load and related interest continues to increase, and there is no apparent way out of the situation. Thousands of people and families just like you experience this exact same type of financial difficulty each year. And while it is never an easy decision, sometimes the filing of a bankruptcy is the best decision.
If you decide to proceed with the filing of bankruptcy, then Standard Legal's Bankruptcy legal forms software package is the most effective do-it-yourself solution available for either an individual filing or a joint filing with your spouse.
A bankruptcy attorney can cost thousands of dollars. When money is already tight, coming up with the amount necessary to hire an attorney can often be nearly impossible. That's when you need a clear way to resolve the issue on your own. That's when you need the directions and overviews provided by a person experienced in bankruptcy who can teach you how to proceed through the filings and paperwork required. That's when you need the information provided by Standard Legal.
To be clear: the Bankruptcy process is by no means "quick and easy". Nor should it be; a person filing for Bankruptcy is asking a court to wipe away legitimate debt owed to others. But if your personal situation meets the requirements of the Bankruptcy Court, then the legal forms and instructions provided by Standard Legal are the best available to help you through the process on your own.
The instructions and overviews within the program have been written by a long-time bankruptcy attorney; this attorney has handled personally hundreds of bankruptcy proceedings. He has taken that experience and put it into providing not only instructions on completing the necessary documents, but into adding real insight into the process, to help you make the right decisions at every stage.
Standard Legal's Bankruptcy forms and instructions fully comply with all recent schedule revisions and the significant changes created by The Bankruptcy Act of 2005.
The package includes the most up-to-date "Means Test" (as revised by the Court on November 15, 2013) to determine the type of bankruptcy that can be filed, and all of the forms necessary for both Chapter 7 Bankruptcy and Chapter 13 Bankruptcy. (Both types of forms are provided because the Means Test determines the type of bankruptcy a person is eligible to file.)
In addition to step-by-step instructions for completing each and every one of the Bankruptcy forms, Standard Legal also provides four introductory overview documents covering the most pertinent Bankruptcy subjects you need to know:
- Changes in Bankruptcy Law
- Introduction to Bankruptcy
- The Bankruptcy Process
- Frequently Asked Questions
Further, Standard Legal's Bankruptcy legal forms software package includes:
- A 'check list' with detailed information concerning which documents are required to be filed (for either individual or joint bankruptcy) and the costs associated with filing your case;
- Information relevant and specific to each District Bankruptcy Court within the United States;
- Bankruptcy forms that provide automatic 'like field' form pre-population from a single data entry, and automatic mathematical calculations for form field financial data;
- Information about completing the court-required Credit Counseling and Debtor Education Courses -- and access to a discount code that provides both courses online for just $59 (that's $30 off the normal price);
- Suggestions for presenting your completed documents to the court;
- Suggestions for appearing before the bankruptcy trustee;
- Access to any and all local Bankruptcy court forms (those required by your specific region's District Bankruptcy Court and even specific judges within a district);
- A list of important and helpful web site links that can assist in making your case run smoothly;
- Information concerning the new Bankruptcy Reform Act – and how it has affected one's ability to file for bankruptcy;

Standard Legal's Bankruptcy legal forms software will help you get a difficult financial situation put to rest, so that you can begin to move forward with the rest of your life. Create your bankruptcy filing today, before the Court further tightens the eligibility rules!
AREN'T BANKRUPTCY FORMS AVAILABLE FOR FREE FROM THE COURT?
Yes, basic PDFs of all U.S. Bankruptcy Court forms are available online for free. But the Court's PDF forms have some significant limitations.
Unlike the Bankruptcy forms from Standard Legal, the Court forms are not full-function PDFs.
The most critical function missing from the free Court forms is 'Save Filled' -- the ability to fill in any of the form fields then save the PDF so that the answers remain saved as entered. The ability to 'Save Filled' is critical for two reasons:
1) without 'Save Filled', the user is forced to finish then print a form all in one sitting, a difficult task for many of the Bankruptcy forms given the amount of information required; and
2) without 'Save Filled', the user must start a form again starting from scratch if there is an error, change, or addition required later.
For those two reasons alone, the 'Save Filled' forms available from Standard Legal are a great value.
But there are other important differences in how the free Court forms work vs. the forms from Standard Legal:
- Standard Legal's forms auto-complete any 'like fields'. The forms the Court provides do not always auto-complete the 'like fields' -- so if "Name" is an entry field three times on one form, you must fill in your name three times in three locations on the Court's version.
- Standard Legal's forms automatically handle the financial calculations directly within the form. The Court-provided forms often lack financial field calculations, meaning that 'doing the math' outside the form is required for many of the court-provided options.
- Standard Legal provides detailed overviews and step-by-step instructions. The Court forms typically do not offer any substantive instructions whatsoever for completing each form, nor do they offer much in the way of Bankruptcy process overview information.
- Standard Legal provides fully-completed sample-case forms. The Court websites do not provide any fully-completed sample-case forms for review, something that can be of great help in completing your own forms.
So yes, all U.S. Bankruptcy Court forms are available as PDFs for free online. But how those free forms work, the functionality built into them, and the lack of detailed instructions mean the Court's forms are nothing like the complete Bankruptcy package offered by Standard Legal.

IMPORTANT NOTE: persons who represent themselves in a Bankruptcy proceeding (also called "Pro Se filers") may not be given advice from any person, agent or entity because there is no attorney-client relationship in place. This stringent requirement was strengthened even further by the Court in the Bankruptcy Act of 2005. Therefore, we strongly suggest you read the required Bankruptcy Disclosure prior to the purchase and use of any bankruptcy software product.

The forms provide by The Standard Legal Network are the most up-to-date, legally accurate and easiest-to-use in the industry. Many of our competitors provide forms that are poorly formatted, out of date or simply filled with inaccurate instructions. Please take a minute to review the bullet points at the right detailing the 13 REASONS why our Standard Legal Software packages are the clear choice for do-it-yourself legal products! Also, check out the software format features listed below and you'll get a look inside the software to see how it works!



---
ATTENTION ATTORNEYS AND PARALEGALS:

IMPORTANT LICENSING INFORMATION FOR DOCUMENT PREPARATION PROFESSIONALS


The legal forms software described above is licensed exclusively for use by "pro se" individuals creating legal forms for themselves or their immediate family members. If you are a legal professional looking for software forms licensed to use on behalf of clients in a commercial situation, please review our Professional Version.
---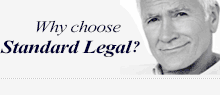 QUALIFIED ATTORNEY AUTHORS:


All of the legal forms within each Standard Legal Software product are carefully researched and written by a highly-qualified, experienced, licensed attorney.


UP-TO-DATE LEGAL CONTENT:


All of the content and instructions are updated any time a state or federal law, statute or administrative requirement changes. Our legal forms content is in constant review.


STEP-BY-STEP INSTRUCTIONS:


The comprehensive instructions are written for use by ordinary, everyday people! If you can answer clear, specific questions and follow written instructions, you can complete these forms. The format of this software truly is "fill-in-the-blank".


USE THE SOFTWARE AT-ONCE:


Use the software immediately after purchase! Get encrypted links to the software download server and password-protected online access within seconds after the transaction. Links are provided both on-screen and in an email confirmation.


EASILY DOWNLOADABLE FORMS:


Standard Legal's forms can be downloaded in total within one .zip file, or individually from the online forms server! No .exe file installation required. Both versions are identical in content and functionality, and both are included as part of the purchase price.


USE WITH ANY COMPUTER:


Mac or PC, Microsoft Word or a simple text editor, dial-up connection or a T-1 line -- no matter what type of system you have, you can use Standard Legal Software. True cross-platform, multi-program legal forms options.


FREE TECHNICAL SUPPORT:


The support staff at the Standard Legal Network is trained to help its clients download and access the software effectively. While we cannot provide legal advice to you, our staff will gladly assist you by email in obtaining and using the forms.


SECURE PAYMENT PROCESSING:


Feel confident in making an online purchase, as we provide 128-bit encryption of your transaction data and personal information using the latest payment technologies from Authorize.net!


NO SHIPPING FEES NECESSARY:


Because the products sold by Standard Legal are provided in downloadable software format, there are no additional fees for handling and shipping a printed package of paper. Print out only the forms that you need!


FREE ATTORNEY REFERRAL:


All customers gain free access to our attorney referral site. If you decide that handling a situation yourself might not be the way to go, you can log on to our attorney referral site and find a qualified attorney to help you with your case. No charge to post your case!


LEGAL & VALID IN ALL STATES:


The forms provided by Standard Legal are valid throughout the USA. Whenever necessary, state-specific language or forms are provided to cover all districts and territories:
Alabama
Alaska
Arizona
Arkansas
California
Colorado
Connecticut
Delaware
Florida
Georgia
Hawaii
Idaho
Illinois
Indiana
Iowa
Kansas
Kentucky
Louisiana
Maine
Maryland
Massachusetts
Michigan
Minnesota
Mississippi
Missouri
Montana

Nebraska
Nevada
New Hampshire
New Jersey
New Mexico
New York
North Carolina
North Dakota
Ohio
Oklahoma
Oregon
Pennsylvania
Rhode Island
South Carolina
South Dakota
Tennessee
Texas
Utah
Vermont
Virginia
Washington
Washington D.C.
West Virginia
Wisconsin
Wyoming
U.S. Territories
SAVE MONEY ON LEGAL FEES:


Bottom line, when you use forms from Standard Legal, you can quickly and easily create the same legal documents for which a local attorney would charge hundreds -- or even thousands -- of dollars. The net result can be a very substantial savings!


100% MONEY BACK GUARANTEE:


Standard Legal guarantees that all of the documents provided within our software will be acceptable to the appropriate court or government agency, and will refund 100% of the purchase price should a document not be accepted due to our error.

Just a note to let you know that I filed my Chapter 7 in Illinois using your software. It went without a hitch! Even the trustee was impressed by the software when I was asked if I had filed without an attorney. Everyone else had an attorney with them, but it was funny because the attorneys had never even met their clients before that day of the 341 meeting. Even though I didn't have an attorney, I felt more confident because I actually knew what was in my petition. Thanks alot!!
-- Mark Leisen, Illinois
---
I used your do-it-yourself Bankruptcy software and to be honest, I couldn't have completed my filing without it. I interviewed local lawyers but I never really felt comfortable with their answers to my specific situation. Plus, the going rate was from $2,500 to $7,500 for my particular case. Instead, I spent less than $100 for the whole process and I already have my debts discharged. I want to take this opportunity to congratulate Standard Legal for a great service; I take great pride recommending the services of your organization.
-- Edgar M., Jackson Hts NY
---
I got a very high praise from the Chapter 13 Trustee in my 341 creditors meeting about the amazing job I did on my Chapter 13 petition. Thank you for your software!
-- N. Jackson, Charlotte NC
---
Great forms and a very well put together bankruptcy software package! Very impressed by the simplicity and ease of use. Well, well worth the money spent on it!
-- J. Cozzolino, AZ
---
With Standard Legal's do-it-yourself Bankruptcy legal forms software for personal Chapter 7 and 13 filings, I was able to see the forest through the trees! The software has easy to follow instructions and customized court forms to enter in my personal data, which saved me days of modifying the court forms on my own. Standard Legal takes away anxiety and uncertainty and enables the user to move forward without paying for an attorney. I HIGHLY recommend using Standard Legal's Bankruptcy forms software if you decide to file without an attorney.
-- D. Ashley, Snohomish WA
---
I just wanted to let you know how successful I was in using your software!
I purchased the Bankruptcy title at a time of great stress. I had interviewed several lawyers who all were charging between $2,000 and $5,000 for a Chapter 13.
I wasn't sure I could do it on my own, but with the help of your software and the example cases that were included, I was able to file on my own.
The Clerk at the filing window was very impressed in the completeness of the documents.
But what thrilled me the most was the judge asking me, "Who helped you with this?" My reply was "I did it all myself!" The judge was very impressed, and our plan was approved the first time through.
Plus we saved a ton of money! I highly recommend Standard Legal.
-- Jeannie Burnett, Rocky River, Ohio
---
I want to express my thanks for the Bankruptcy software from Standard Legal. It is easy to follow and simple to understand. I am happy about the money I will be saving in not using an attorney. Thanks again!
-- Al Y., San Jose CA
---
SYSTEM REQUIREMENTS & SOFTWARE FILE SPECIFICATIONS:
Standard Legal Software works on virtually all Windows, Apple / Mac, and Linux-based systems. Links to a downloadable file are presented immediately upon the completion of your transaction. The initial download is provided as a compressed .zip file which much be expanded to access a series of folders containing all of the legal forms, overview files and instruction files. To expand the initial download, most computers come with a decompression utility like WinZip pre-installed; if your computer does not have a .zip utility, we recommend StuffIt Expander (it's FREE!).
The Bankruptcy title contains an exceptionally large number of forms, given that there are mulitple region-specific District Bankruptcy Courts and two types of Bankruptcy Chapters provided. The initial Bankruptcy download presents only an overview of the Bankruptcy process and detailed instructions as to how to log on to our online forms server to download the forms specific to your personal situation. As such, an active web connection is required after the initial software download to access all of the necessary forms. (Read the START-HERE.txt file included in the initial download for specific instructions.) The online forms server allows for the most up-to-date legal documents to be available at any time, and prevents the user from downloading forms that will never be used. Once the proper forms are downloaded from our servers, they are to be completed offline; you do not need to be online to complete any of the forms.
Generally, the legal forms contained within each Standard Legal title are provided in three formats: as Microsoft Word files, as standard text files, and as Adobe PDF files. TO GET A DETAILED DESCRIPTION OF THE FUNCTIONALITY OF OUR LEGAL FORM FORMATS -- AS WELL AS FULLY-WORKING SAMPLES OF THOSE FORMATS -- CLICK HERE. Note that some forms are provided in only one or two of the available formats.
The Standard Legal Bankruptcy forms are primarily formatted as Adobe PDF files because of the financial calculations required; only a few of the District Court forms are provided as Microsoft Word or in other program formats. Use of the PDF forms requires the download and installation of either Adobe's Acrobat Reader (it's FREE!), another vendor's PDF program that allows for the entering of data into form fields, or the full commercial version of Adobe Acrobat.
Access to the password-protected online legal forms server (sometimes called "the online version") requires a java-enabled web browser like Internet Explorer 3.0 or later, which typically comes pre-installed on most systems. (If your system does not have a web browser, you can download the most recent version of Internet Explorer or Firefox for free.) Once you access the online version of our legal forms server, read the instructions provided on the main menu and download only the specific legal forms, overviews and instructions required for your situation. Once all of the necessary files are downloaded, you may complete those forms "offline" using the programs listed above.