INCORPORATION SOFTWARE :: FOR-PROFIT CORPORATION LEGAL FORMS
Incorporation is the most common legal structure for a business in the United States. Most established businesses with multiple shareholders eventually incorporate, both for legal protections and tax incentives.

A for-profit corporation is a business organization that is separate and apart from its owners (the owners are called "shareholders"). The corporation is managed by a board of directors which elects officers to carry out the daily operations of the business. A corporation is a legal entity in its own right. As a separate entity, it has its own rights, privileges, and liabilities apart from the individuals who form it.

Because the corporation is a separate legal entity in the eyes of the law, the shareholders are generally not personally responsible for the debts or obligations of the corporation. A stockholder's personal liability is usually limited to the amount of investment in the corporation and no more.

If the framework described above is how you would like your business and all of the owners of the business to be treated, then use the Standard Legal's Incorporation legal forms software to achieve this structure. This package contains information that will allow you to form a FOR PROFIT - DOMESTIC CORPORATION.

Standard Legal's Incorporation legal forms software contains all of the required forms, information and comprehensive instructions to file for corporate status IN EACH AND EVERY STATE IN THE USA. Incorporations are handled differently in each state, and often times these state requirements can change from year-to-year as well; Standard Legal makes sure that its Incorporation legal forms software package is complete, correct and up-to-date, to make the entire filing process simple and straight-forward.

In addition to these state-specific forms for filing for incorporation, this package also contains the following documents for the ongoing maintenance of the corporate structure:

- Incorporation Overview

- Proceedings of the Incorporators

- By-Laws

- Code of Regulations

These forms contain and outline the required information for establishing the rules that will govern the corporation once the articles of incorporation have been submitted, approved by and documented with the State. These forms can (and should) be modified to meet the specific needs of your corporation.

Standard Legal's Incorporation legal forms software also contains:

- Stock Certificate template for shareholders

- Minutes of Director Meetings (with samples)

- Minutes of Shareholder Meetings (with samples)

Lastly, the Standard Legal Software Incorporation program provides a thorough package of background information on the various structural choices that are available to a business owner prior to Incorporating. These detailed observations and step-by-step instructions will help ensure that your business is properly created, registered and documented, and that you are making the right decisions when it comes to creating its legal corporate structure.

IMPORTANT NOTES:

FOR-PROFIT DOMESTIC CORPORATIONS: This legal forms title covers standard for-profit domestic corporations only! Not-for-profit corporate forms are not available in this legal forms software package, nor are the forms required for filing a "foreign" corporation provided (i.e. a corporation organized in one state to conduct business in another state).

SOUTH CAROLINA: businesses to be incorporated in South Carolina must have their corporate documents signed by an attorney prior to filing. The form for obtaining this signature is included.




Have questions on Incorporation vs. LLC vs. Partnerships vs. Sole Proprietorship?



The forms provide by The Standard Legal Network are the most up-to-date, legally accurate and easiest-to-use in the industry. Many of our competitors provide forms that are poorly formatted, out of date or simply filled with inaccurate instructions. Please take a minute to review the bullet points at the right detailing the 13 REASONS why our Standard Legal Software packages are the clear choice for do-it-yourself legal products! Also, check out the software format features listed below and you'll get a look inside the software to see how it works!



---
ATTENTION ATTORNEYS AND PARALEGALS:

IMPORTANT LICENSING INFORMATION FOR DOCUMENT PREPARATION PROFESSIONALS


The legal forms software described above is licensed exclusively for use by "pro se" individuals creating legal forms for themselves or their immediate family members. If you are a legal professional looking for software forms licensed to use on behalf of clients in a commercial situation, please review our Professional Version.
---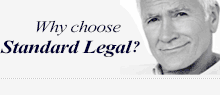 QUALIFIED ATTORNEY AUTHORS:


All of the legal forms within each Standard Legal Software product are carefully researched and written by a highly-qualified, experienced, licensed attorney.


UP-TO-DATE LEGAL CONTENT:


All of the content and instructions are updated any time a state or federal law, statute or administrative requirement changes. Our legal forms content is in constant review.


STEP-BY-STEP INSTRUCTIONS:


The comprehensive instructions are written for use by ordinary, everyday people! If you can answer clear, specific questions and follow written instructions, you can complete these forms. The format of this software truly is "fill-in-the-blank".


USE THE SOFTWARE AT-ONCE:


Use the software immediately after purchase! Get encrypted links to the software download server and password-protected online access within seconds after the transaction. Links are provided both on-screen and in an email confirmation.


EASILY DOWNLOADABLE FORMS:


Standard Legal's forms can be downloaded in total within one .zip file, or individually from the online forms server! No .exe file installation required. Both versions are identical in content and functionality, and both are included as part of the purchase price.


USE WITH ANY COMPUTER:


Mac or PC, Microsoft Word or a simple text editor, dial-up connection or a T-1 line -- no matter what type of system you have, you can use Standard Legal Software. True cross-platform, multi-program legal forms options.


FREE TECHNICAL SUPPORT:


The support staff at the Standard Legal Network is trained to help its clients download and access the software effectively. While we cannot provide legal advice to you, our staff will gladly assist you by email in obtaining and using the forms.


SECURE PAYMENT PROCESSING:


Feel confident in making an online purchase, as we provide 128-bit encryption of your transaction data and personal information using the latest payment technologies from Authorize.net!


NO SHIPPING FEES NECESSARY:


Because the products sold by Standard Legal are provided in downloadable software format, there are no additional fees for handling and shipping a printed package of paper. Print out only the forms that you need!


FREE ATTORNEY REFERRAL:


All customers gain free access to our attorney referral site. If you decide that handling a situation yourself might not be the way to go, you can log on to our attorney referral site and find a qualified attorney to help you with your case. No charge to post your case!


LEGAL & VALID IN ALL STATES:


The forms provided by Standard Legal are valid throughout the USA. Whenever necessary, state-specific language or forms are provided to cover all districts and territories:
Alabama
Alaska
Arizona
Arkansas
California
Colorado
Connecticut
Delaware
Florida
Georgia
Hawaii
Idaho
Illinois
Indiana
Iowa
Kansas
Kentucky
Louisiana
Maine
Maryland
Massachusetts
Michigan
Minnesota
Mississippi
Missouri
Montana

Nebraska
Nevada
New Hampshire
New Jersey
New Mexico
New York
North Carolina
North Dakota
Ohio
Oklahoma
Oregon
Pennsylvania
Rhode Island
South Carolina
South Dakota
Tennessee
Texas
Utah
Vermont
Virginia
Washington
Washington D.C.
West Virginia
Wisconsin
Wyoming
U.S. Territories
SAVE MONEY ON LEGAL FEES:


Bottom line, when you use forms from Standard Legal, you can quickly and easily create the same legal documents for which a local attorney would charge hundreds -- or even thousands -- of dollars. The net result can be a very substantial savings!


100% MONEY BACK GUARANTEE:


Standard Legal guarantees that all of the documents provided within our software will be acceptable to the appropriate court or government agency, and will refund 100% of the purchase price should a document not be accepted due to our error.

I found Standard Legal online when I started my own corporation. I needed to save money for capital investments and didn't want to spend any more than necessary on attorney fees. My business attorney suggested I try Standard Legal to get the forms that I could fill out myself, which not only saved me a lot of expensive hourly fees, but also gave me a better understanding of the legal issues and processes of my business. Thanks!
-- Rowena Hart, El Cajon CA
---
We had formed a low cost Nevada Corporation years ago for a specific venture. After much preparation we were at a point where we needed capital to do a feasibility study. We had found a private investor who agreed to take stock as collateral for the loan, so we wanted to get an agreement done quickly. We only had our laptop computer with us, so we immediately got online and found Standard Legal. We purchased the Incorporation software, prepared the legal documents we needed, found a nearby color printer, and printed out the corporate minutes and the loan and stock agreement with a corporate seal. Thank you for excellent service, Standard Legal!
-- G. Mather, Watsonville CA
---
Today I received a phone call from one of your people in answer to my e-mail about the Ohio Incorporation papers being wrong. It is good to know that there are still people of integrity in this world. Thank you, you have instilled confidence in me to use your service now and in the future. God BLESS.
-- Jerry Lawrence, Newark, OH
---
SYSTEM REQUIREMENTS & SOFTWARE FILE SPECIFICATIONS:
Standard Legal Software works on virtually all Windows, Apple / Mac, and Linux-based systems. Links to a downloadable file are presented immediately upon the completion of your transaction. The initial download is provided as a compressed .zip file which much be expanded to access a series of folders containing all of the legal forms, overview files and instruction files. To expand the initial download, most computers come with a decompression utility like WinZip pre-installed; if your computer does not have a .zip utility, we recommend StuffIt Expander (it's FREE!).
For most titles, the initial download contains all of the forms and instructions needed. However, an active web connection is highly recommended even after the initial downloaded is completed, as some of the information contained within some of the titles may be accessible only from our online forms server. (Read the START-HERE.txt file included in the initial download for specific instructions.) The online forms server allows for the most up-to-date legal documents to be available at any time, and prevents the user from downloading forms that will never be used from titles that have an exceptionally large number of files. Once the proper forms are downloaded from our servers, they are to be completed offline; you do not need to be online to complete any of the forms.
Generally, the legal forms contained within each Standard Legal title are provided in three formats: as Microsoft Word files, as standard text files, and as Adobe PDF files. TO GET A DETAILED DESCRIPTION OF THE FUNCTIONALITY OF OUR LEGAL FORM FORMATS -- AS WELL AS FULLY-WORKING SAMPLES OF THOSE FORMATS -- CLICK HERE. Note that some forms are provided in only one or two of the available formats.
The fully-featured commercial version of Microsoft Word is required to complete the Word-formatted forms. Other open-source and commercial word processing programs like Microsoft Works, WordPerfect, Word Pad, OpenOffice, Google Docs, Note Pad or Simple Text may also be used, but only with the "straight text" version of the forms. Finally, the provided PDF versions of the forms require the download and installation of either Adobe's Acrobat Reader (it's FREE!), another vendor's PDF program that permits the entering of data into form fields, or the full commercial version of Adobe Acrobat.
Access to the password-protected online legal forms server (sometimes called "the online version") requires a java-enabled web browser like Internet Explorer 3.0 or later, which typically comes already installed on most systems. (If your system does not have a web browser, you can download the most recent version of Internet Explorer or Firefox for FREE.) Once you access the online version of our legal forms server, the user should read the instructions provided on the main menu and download only the specific legal forms, overviews and instructions required for his or her situation. Once all of the necessary files are downloaded, the user may complete those forms "offline" using the programs listed above.