EMPLOYEE MANUALS, EMPLOYEE HANDBOOK AND HUMAN RESOURCES LEGAL FORMS SOFTWARE
It is critical in today's "lawsuit happy society" to protect the substantial investment of time and money that an owner puts into a business. If you have even a handful of employees, an Employee Manual is one of the best protections you can create to prevent overzealous litigation, be it from a current employee or a previously fired worker.

Standard Legal's easy-to-use Employee Handbook software documents set forth the rules, regulations and guidelines that most employers should publish and distribute to their employees. These rules cover the most common situations and scenarios that affect the everyday workplace -- it is these types of published rules and guidelines that will help you protect yourself and your business from unwarranted litigation.

The fully-developed handbook template with step-by-step instructions for customizing and completing it will allow a business owner or manager to prepare a thorough and concise employee manual. Because the program is complete and simple to use, in most cases the business owner can produce this document without the expense of an attorney. The manual should take most users less than 30 minutes to complete and customize, and is geared for small to medium sized businesses.

The Standard Legal Employee Manual software provides a professionally designed handbook laid out in "book format", with headers, chapter titles, page numbers, etc. There are no graphics within the content, so you can easily customize the look of the manual to your tastes, even adding your own company logo prior to printing.

The employee manual does NOT contain state-specific language or a repurposed listing of state laws, codes or regulations. A well-written employee handbook should NEVER contain such off-topic material. Adding state-specific language into an employee handbook runs counter to the two primary reasons for creating such a manual: protecting the owner(s) of the business and the business itself from litigation; and providing the most fundamental and necessary employee directives to all workers. If employees want to research state laws and workplace regulations, they can do so easily at published state government sources.




EMPLOYEE MANUAL TABLE OF CONTENTS


TRIAL PERIOD
ACKNOWLEDGMENT
EMPLOYMENT STATUS
WORK HOURS
PAY PERIODS
HOLIDAY POLICY
VACATION LEAVE POLICY
TELEPHONE USE
ATTENDANCE POLICY
TIMECARDS
CLEANUP
WRITTEN NOTICE
EMPLOYEE CONDUCT/WORK ENVIRONMENT
WORKPLACE VIOLENCE POLICY
ENFORCEMENT OF POLICIES
EMPLOYEE PERFORMANCE REVIEWS
WORKERS COMPENSATION CLAIMS POLICY
DRUG FREE WORKPLACE
OUTSIDE EMPLOYMENT
JOB DESCRIPTIONS
TRAVEL AND EXPENSE REIMBURSEMENT
PERSONNEL RECORDS
CONFIDENTIALITY POLICY
COMPANY DRESS/GROOMING
COMPUTER USE
SOCIAL MEDIA POLICY
MAJOR MEDICAL HEALTH INSURANCE
OTHER BENEFITS
A. Retirement Plan
B. Leave of Absence
1. Disability Leave
2. Other Leaves of Absence
C. Jury Duty
D. Military Duty
EQUAL OPPORTUNITY/AFFIRMATIVE ACTION POLICY
POLICY GOVERNING SEXUAL HARASSMENT




BONUS #1: HUMAN RESOURCES LEGAL FORMS

In addition to the Employee Manual, this employee management legal software package contains the most comprehensive series of employee-related legal forms, contracts, handbooks, manuals, agreements and posters available anywhere:

Authorization for Criminal Background Check - This form will allow a company, organization or other entity to gather information sufficient to conduct a background check on a potential employee (or even volunteers). The form also grants the permission or authorization from that the person on whom the check will be done to the company or organization.

Employee Arbitration Agreement Form - Avoid costly litigation at the hands of disgruntled current or former employees. This binding agreement requires any and all claims that could be directed against your company from current or former employees be sent to binding arbitration rather than costly and time consuming litigation. Save thousands of dollars, avoid the aggravation of court and the specter of never-ending litigation.

Employee Review Form - Allows you to prepare a relevant and company/job specific job review form so that your management personnel can conduct thoughtful, insightful reviews of your employee's work performance. By providing information to your employees regarding their strengths and weaknesses, you can improve your company's productivity and retain well-trained and properly motivated employees.

Employment Contract - this agreement, between your business and its employees, establishes an "at-will" employment relationship, sets forth compensation for the employee, provides for non-disclosure of the employer's business secrets and contains a non-compete agreement.

Consultant Agreement - if your business needs the expertise of an industry insider but does not want the burden and expense of putting that person on payroll full-time, consider retaining that person as a consultant. This form creates an independent contractor relationship between your company and the consultant with the expertise you desire to tap.

Sales Representative Agreement - If your business is in need of a sales force but does not desire the hassle, burden and cost of full-time employee representatives, this agreement is perfect for your business. This agreement establishes an independent contractor-type relationship with the sales representatives. The representative is paid a commission that you negotiate only when the sales representative sells your products and you are paid by your customer on that sale.

Employment Application - Use the information and questions listed on this form to obtain concise and accurate information from potential employees.

Credit Report Check Authorization Form - allows a business owner to get signed authorization from a potential employee to run a credit report check.




BONUS #2: FEDERALLY-REQUIRED EMPLOYEE NOTICES POSTERS

- The Federal Government requires that employers post in a conspicuous place at their business certain posters describing information on minimum wage, OSHA matters, EEOC, etc. This software contains such posting requirements in standard text format, as provided verbatim from the U.S. Department of Labor. Note that there may be specific state law posting requirements in addition to those contained in our software; the introductory text file provides a suggested web reference to review these requirements.


The forms provide by The Standard Legal Network are the most up-to-date, legally accurate and easiest-to-use in the industry. Many of our competitors provide forms that are poorly formatted, out of date or simply filled with inaccurate instructions. Please take a minute to review the bullet points at the right detailing the 13 REASONS why our Standard Legal Software packages are the clear choice for do-it-yourself legal products! Also, check out the software format features listed below and you'll get a look inside the software to see how it works!



---
ATTENTION ATTORNEYS AND PARALEGALS:

IMPORTANT LICENSING INFORMATION FOR DOCUMENT PREPARATION PROFESSIONALS


The legal forms software described above is licensed exclusively for use by "pro se" individuals creating legal forms for themselves or their immediate family members. If you are a legal professional looking for software forms licensed to use on behalf of clients in a commercial situation, please review our Professional Version.
---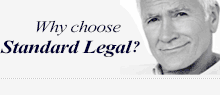 QUALIFIED ATTORNEY AUTHORS:


All of the legal forms within each Standard Legal Software product are carefully researched and written by a highly-qualified, experienced, licensed attorney.


UP-TO-DATE LEGAL CONTENT:


All of the content and instructions are updated any time a state or federal law, statute or administrative requirement changes. Our legal forms content is in constant review.


STEP-BY-STEP INSTRUCTIONS:


The comprehensive instructions are written for use by ordinary, everyday people! If you can answer clear, specific questions and follow written instructions, you can complete these forms. The format of this software truly is "fill-in-the-blank".


USE THE SOFTWARE AT-ONCE:


Use the software immediately after purchase! Get encrypted links to the software download server and password-protected online access within seconds after the transaction. Links are provided both on-screen and in an email confirmation.


EASILY DOWNLOADABLE FORMS:


Standard Legal's forms can be downloaded in total within one .zip file, or individually from the online forms server! No .exe file installation required. Both versions are identical in content and functionality, and both are included as part of the purchase price.


USE WITH ANY COMPUTER:


Mac or PC, Microsoft Word or a simple text editor, dial-up connection or a T-1 line -- no matter what type of system you have, you can use Standard Legal Software. True cross-platform, multi-program legal forms options.


FREE TECHNICAL SUPPORT:


The support staff at the Standard Legal Network is trained to help its clients download and access the software effectively. While we cannot provide legal advice to you, our staff will gladly assist you by email in obtaining and using the forms.


SECURE PAYMENT PROCESSING:


Feel confident in making an online purchase, as we provide 128-bit encryption of your transaction data and personal information using the latest payment technologies from Authorize.net!


NO SHIPPING FEES NECESSARY:


Because the products sold by Standard Legal are provided in downloadable software format, there are no additional fees for handling and shipping a printed package of paper. Print out only the forms that you need!


FREE ATTORNEY REFERRAL:


All customers gain free access to our attorney referral site. If you decide that handling a situation yourself might not be the way to go, you can log on to our attorney referral site and find a qualified attorney to help you with your case. No charge to post your case!


LEGAL & VALID IN ALL STATES:


The forms provided by Standard Legal are valid throughout the USA. Whenever necessary, state-specific language or forms are provided to cover all districts and territories:
Alabama
Alaska
Arizona
Arkansas
California
Colorado
Connecticut
Delaware
Florida
Georgia
Hawaii
Idaho
Illinois
Indiana
Iowa
Kansas
Kentucky
Louisiana
Maine
Maryland
Massachusetts
Michigan
Minnesota
Mississippi
Missouri
Montana

Nebraska
Nevada
New Hampshire
New Jersey
New Mexico
New York
North Carolina
North Dakota
Ohio
Oklahoma
Oregon
Pennsylvania
Rhode Island
South Carolina
South Dakota
Tennessee
Texas
Utah
Vermont
Virginia
Washington
Washington D.C.
West Virginia
Wisconsin
Wyoming
U.S. Territories
SAVE MONEY ON LEGAL FEES:


Bottom line, when you use forms from Standard Legal, you can quickly and easily create the same legal documents for which a local attorney would charge hundreds -- or even thousands -- of dollars. The net result can be a very substantial savings!


100% MONEY BACK GUARANTEE:


Standard Legal guarantees that all of the documents provided within our software will be acceptable to the appropriate court or government agency, and will refund 100% of the purchase price should a document not be accepted due to our error.

SYSTEM REQUIREMENTS & SOFTWARE FILE SPECIFICATIONS:
Standard Legal Software works on virtually all Windows, Apple / Mac, and Linux-based systems. Links to a downloadable file are presented immediately upon the completion of your transaction. The initial download is provided as a compressed .zip file which much be expanded to access a series of folders containing all of the legal forms, overview files and instruction files. To expand the initial download, most computers come with a decompression utility like WinZip pre-installed; if your computer does not have a .zip utility, we recommend StuffIt Expander (it's FREE!).
For most titles, the initial download contains all of the forms and instructions needed. However, an active web connection is highly recommended even after the initial downloaded is completed, as some of the information contained within some of the titles may be accessible only from our online forms server. (Read the START-HERE.txt file included in the initial download for specific instructions.) The online forms server allows for the most up-to-date legal documents to be available at any time, and prevents the user from downloading forms that will never be used from titles that have an exceptionally large number of files. Once the proper forms are downloaded from our servers, they are to be completed offline; you do not need to be online to complete any of the forms.
Generally, the legal forms contained within each Standard Legal title are provided in three formats: as Microsoft Word files, as standard text files, and as Adobe PDF files. TO GET A DETAILED DESCRIPTION OF THE FUNCTIONALITY OF OUR LEGAL FORM FORMATS -- AS WELL AS FULLY-WORKING SAMPLES OF THOSE FORMATS -- CLICK HERE. Note that some forms are provided in only one or two of the available formats.
The fully-featured commercial version of Microsoft Word is required to complete the Word-formatted forms. Other open-source and commercial word processing programs like Microsoft Works, WordPerfect, Word Pad, OpenOffice, Google Docs, Note Pad or Simple Text may also be used, but only with the "straight text" version of the forms. Finally, the provided PDF versions of the forms require the download and installation of either Adobe's Acrobat Reader (it's FREE!), another vendor's PDF program that permits the entering of data into form fields, or the full commercial version of Adobe Acrobat.
Access to the password-protected online legal forms server (sometimes called "the online version") requires a java-enabled web browser like Internet Explorer 3.0 or later, which typically comes already installed on most systems. (If your system does not have a web browser, you can download the most recent version of Internet Explorer or Firefox for FREE.) Once you access the online version of our legal forms server, the user should read the instructions provided on the main menu and download only the specific legal forms, overviews and instructions required for his or her situation. Once all of the necessary files are downloaded, the user may complete those forms "offline" using the programs listed above.